'1918 – The Untold Stories of the Great War' is a narrative performance piece which wends its way through narrative, history, humour and song. Over the course of 50-65 minutes (depending on audience and location), Chris performs up to a dozen songs interspersed with insights and observations that embed the music within a chronological historical context.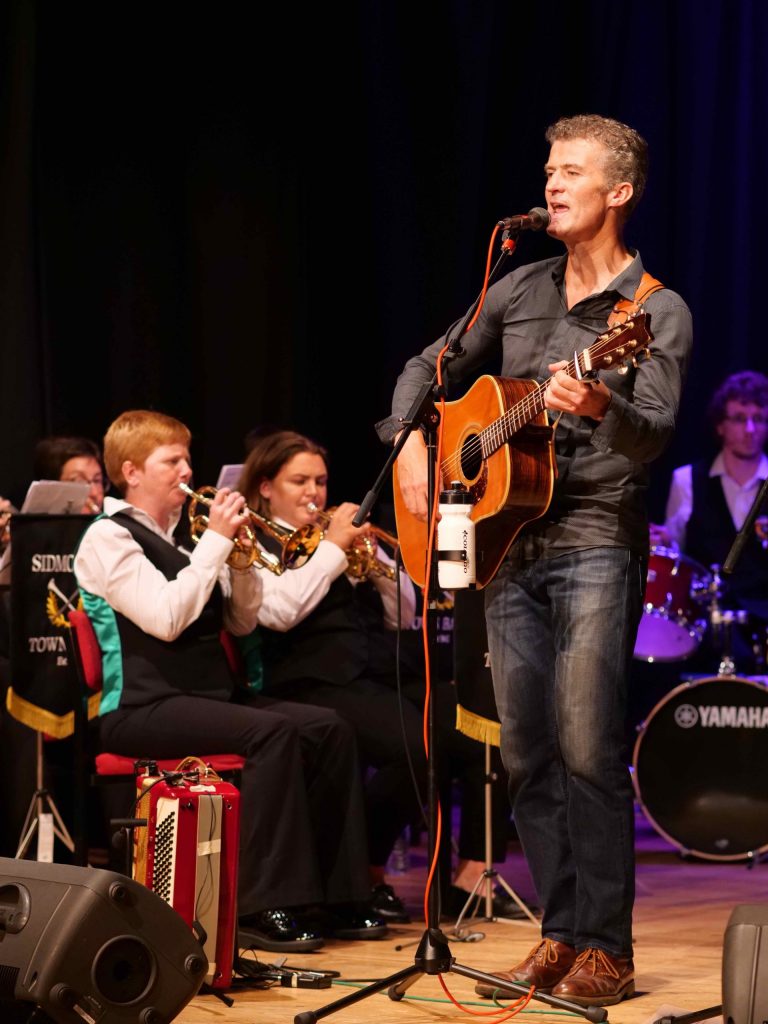 The show is a modern take on a seemingly all too well-known tale that enables the listener, especially young people, to build a new understanding of many lesser-known events, wider aspects and different characters who were swept up in World War I. Sometimes set as a solo performance piece, and with many of the songs also arranged for a variety of choirs, it takes on its fullest form when staged with brass band accompaniment, such as in Sidmouth Folk Week 2023 (with Sidmouth Town Band). (Please see the shop for all available scores.)
The subjects range from the very different experiences of an Army Chaplain ('The Padre') and a mess cook ('Bully Beef and Biscuit') on the front line, a parting bouquet given by a soldier to his sweetheart ('The Lily and The Rose') which carries a poignant symbolism for her decades later, a 'Conchie' based in Dartmoor Prison ('The Conchie's Lament'), the comic reflections of a young sapper and his treasure trove of bizarre objects as he digs yet another trench on the Western Front ('As Tommy Was Digging A Trench One Day'), the tribulations of the British West Indies Regiment building up to their mutiny at Taranto, Italy in December 1918 ('No Parades'), and a finale that connects an understanding of the past with our present ('The Christmas Truce').
These are just some of the stories – of old and young, soldier and pacifist, woman and man, black and white – which help the audience gain a new understanding of the many roles that were played out over a hundred years ago.
'The Padre', 'Love Will Make The World Go Round' and 'The Lily And The Rose' have been recorded by Show of Hands on their albums 'Centenary' & 'Centenary Live'; the latter has also been recorded by Miranda Sykes on her solo album 'Borrowed Places'. 'No Parades' was commissioned by the Heritage Lottery Funded project 'Away From The Western Front'. 'The Christmas Truce' appears on 'The Dartmoor Midwinter Sessions' for Show of Hands and friends (purchased YouTube link).
Whatever you're doing, you've got to stop it and listen to this song ['The Padre']. Simon Mayo, BBC Radio 2 'Drivetime'
'The Christmas Truce'… reminds us of the fundamental human need for unity, peace and acceptance of all mankind, and it is a wholly apposite and moving conclusion. Paula Haywood
…A moving and compelling evening… You have the knack of getting under the skin of the people you are singing about and bringing to life their humanity, determination, hopes and fears. Alexa Mason
The songs were just beautiful, and your stories in between the pieces were so powerful. The audience comments were amazing. Fiona Harvey
I was moved to tears on Sunday evening [by] 'The Lily and the Rose'. Cyndi Barker
Your performance of 'The Padre' moves me to tears each time I hear it. Kate Turner
'Bully Beef and Biscuit' is still going round in my head. Tom Wright, Mayor of Budleigh Salterton